Epson WorkForce Enterprise WF-C20750 A3 Colour Multifunction Printer - 75ppm
Benefits of Ecotech Print Solutions
Free Delivery Australia Wide
Always Brand New, Australian Regional Epson Devices.
Fantastic after-care company. Any company can move boxes, real companies support their customers.
Options to buy outright or go on monthly lease plans
Fully tailored to meet your needs, to ensure you get the machine you need, not something that is overkill
Low-cost plans where all you consumables, service and maintenance is looked after.
Eco-Friendly company doing great things for the environment.
100% Australian Family Owned and Operated
Family Business with Family value, we love to care for our customers
Designated Printing Business, we know printing and specialise in printing
KEY FEATURES & BENEFITS
Breakthrough speed that takes business productivity to a whole new level

 75 ISO ppm† (mono/colour), the fastest print speed in its class1

Quality and Reliability without compromise

 – advanced heat-free PrecisionCore technology and a stationary line head deliver both speed and professional-quality output

Make an impact while minimising costs

 – professional, high-resolution output (600 x 2400 dpi) from an extremely cost-effective network Multi-function Device

Work smarter

 – dual-head, single-pass scanner simultaneously scans both sides of 2-sided documents at up to 110 ipm5

Conserve energy

 – up to 87 percent lower power consumption than colour lasers during printing1

Do more, with an intuitive user interface

 – scan to email or the cloud3 — all from a user-friendly 9" touchscreen

Manage your printer fleet and keep costs in check

 – compatible with third-party software solutions for managing usage limitations, user authentication and more. Epson Device Admin software can also be utilised

Print from wherever business takes you

 – featuring Epson Connect™, with a full suite of mobile printing capabilities2

Optional professional finisher

 – the perfect solution for stacking, stapling, booklet-making, hole-punch and much more.

Expedite your workflow

 – 5,350-page maximum paper capacity4 (2,350 standard) for high-volume printing
*Designed for use exclusively with Epson ink cartridges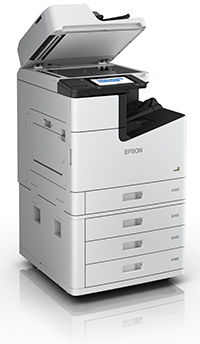 A Powerful & professional printer that drives productivity for Enterprise
Discover excellent quality at incredibly high speeds. Enjoy consistently superb image quality at 600 x 2400dpi and print speeds up to 75 pages per minute in simplex and duplex, matching and even beating most laser printers. Fast first page out times of up to one and a half times faster for first page out and two and a half times faster for typical business print jobs of just a few pages than colour lasers and copiers1.
Use up to 87% less energy compared to lasers1. By reducing the amount of consumables required in the printing process the WorkForce Enterprise reduces the environmental impact of print, by providing a energy-efficient solution. Enjoy the efficiency of a high paper capactiy of 5,350 sheets, and print up to 100K black12 or 50K colour pages without replenishing ink.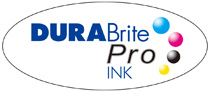 Built for business
PrecisonCore technology, the same platform used for Epson's commercial and industrial devices, provides a robust and reliable print solution that businesses can rely on. Optional embedded cost recovery and follow-me print solutions enable cost monitoring and waste reduction benefits.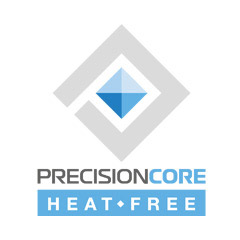 PRECISIONCORE INKJET TECHNOLOGY
Epson's line head heat-free PrecisionCore is groundbreaking technology that delivers fast printing with superior quality results. A truly innovative system, PrecisionCore features Epson's advanced thin-film piezoelectric (TFP) elements, which are produced via the MEMS manufacturing process, based on semiconductor micro-fabrication techniques. At the core of this proprietary technology is the PrecisionCore MicroTFP print chip, a digital chip that does not use heat to eject ink and prints at the micron level — 1/100th the size of a human hair. It's this extraordinary focus on accuracy and detail that enables PrecisionCore to deliver revolutionary results, and no heat also means less power consumption, fewer consumables and less intervention, which saves you time and money.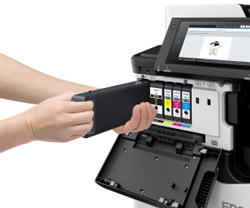 High performance, low intervention
Keep your business moving with WorkForce Enterprise. Forget frequent time-wasting interruptions to change consumables, deal with supplies mis-management, fix problems or wait for IT support. Just concentrate on smooth, on-demand business printing.
Predictable print costs
Available as part of a Managed Print Service, WorkForce Enterprise printers can help to create a distributed printer fleet that both handles the demands of busy workgroups and delivers predictable print costs and savings.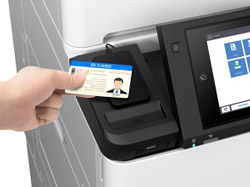 Confidentiality and security
Epson provide Epson Print Admin (EPA), which is a cost recovery / scan workflow solution for security and streamlined process. The benefits include easy access, confidentiality and control, which all contribute to enhanced workflow. This is particularly useful where confidentiality and fast, direct access to prints is crucial. This includes senior management, legal and HR environments, and customer-facing staff like teachers, doctors, nurses and retail staff who can't leave customers, patients or students while they go off to pick up prints.
Fast print speeds
Heat-free PrecisionCore technology ensures each nozzle on the print head delivers. The result is ultra-fast print speeds that eclipse those of colour lasers. WorkForce Enterprise printers deliver professional quality, two-sided colour prints at ground breaking fast print speeds, making it easy to increase productivity, without compromising quality. Any project can be handled with speed and ease.
Laser-sharp black and colour text
Delivering perfectly round droplets and extremely accurate dot placement, these remarkable print heads ensure extraordinary output, whatever the application delivering brilliant, ultra-sharp text on plain and specialty papers.

Simple wireless connectivity
Connect to your wireless2 network in a snap — 802.11 n, is supported. Wi-Fi Direct enables users to easily connect to wireless networks without a router in seconds, allowing printing from virtually any room in the office.
Wired networking
Built-in Ethernet makes sharing the printer on your network quick and easy.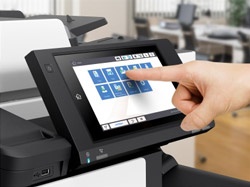 Productivity anytime, anywhere
Easily print from your tablet or smartphone using Epson Connect™. Supports Android™, Apple® iPad and iPhone, Chromebook™, Kindle Fire™, Mac® and Windows® devices. Wirelessly print documents, photos, emails and web pages whether at the office or on the go. You can also scan documents and save them to the cloud for easy access and collaboration
Print from your iPad or iPhone
Apple® AirPrint™ makes it simple to print emails, photos, web pages and documents straight from your iPad or iPhone. There's no software to download, no drivers to install and no cables to connect. Your Apple device will automatically connect to the printer.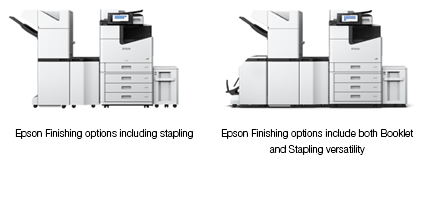 Professional finishing options
Epson Enterprise devices are compatible with optional finishers for professional document production. These include a staple finisher, which can shift, stack and enable hole punching.
Additionally, a Booklet finisher can enable both folding and saddle stitching output.
This greatly reduces the time required to create large amounts of materials and proposals, contributing to work efficiency.
Scan to and print from the cloud
Print on the go from a smartphone or tablet using Google Cloud Print™ with your Gmail™ or Google Drive™ account. Plus, print from your Chromebook™ and Google Chrome™ without installing drivers or connecting cables. It's now even easier to share your documents and images from anywhere.
---
† Mono and colour print speeds are measured in accordance with ISO/IEC 24734. Actual print times will vary based on system configuration, software, and page complexity. For more information, visit www.epson.com.au/printspeed
‡ Mono and colour copy speeds are determined in accordance with ISO/IEC 29183. Actual copy times will vary based on system configuration and page complexity.
1 The Epson WorkForce Enterprise models maximum power consumption of 320W is 87% less than the average of 22 laser counterpart 60 ppm+ models. Data available in the Australian market as at 31 October 2018, based on manufacturers' own specifications.
2 Most features require an Internet connection to the printer, as well as an Internet- and/or email-enabled device. For a list of Epson Connect enabled printers and compatible devices and apps, visit www.epson.com.au/connect
3 Requires an Internet connection, a free Epson Connect account and a destination email address or cloud storage account. For a list of supported cloud services, visit www.epson.com.au/connect
4 With optional high-capacity input; 2,350-page capacity standard.
5 Based on 200 dpi, A4 size, in Mono or Colour.
6 Wi-Fi CERTIFIED™; level of performance subject to the range of the router being used. Wi-Fi Direct® may require printer software.
7 NFC requires use of a device that includes NFC, and may require additional software.
8 Only printing and scanning are supported under Windows Server OS.
9 Some applications and/or functions may not be supported under Mac OS X®.
10 Internet access is required to install OS X drivers and software.
11 Not all media types are supported for PCL printing.
12 Replacement cartridge yields are based on ISO/IEC 24711 tests in Default Mode printing continuously. Black Yield of 100K pages achieved by two 50K cartridges. Both are required for operation.
More Information

| | |
| --- | --- |
| Apply Add To Quote | Yes |
https://www.youtube.com/watch?v=nHpqrqCM1OM
/w/f/wf-enterprise_open_scanner_1.jpg
Shipping Policy
Ecotech Print Solutions strives to serve you with the most efficient and reliable delivery method. 
We use the following methods to send you your goods in super fast!
Express Post
Registered Post
Couriers including Couriers Please, TNT, Startrack and Toll
Air Freight (or all urgent orders please call us to arrange air freight, a surcharge may apply)
 Shipping Fees

All orders over $99.00 are eligible for free shipping. If your order is under $99.00 an $8.00 shipping fee will be applied.


Disptach and Delivery times
All orders placed before 3pm AEST (excluding weekends and public holidays) are dispatched on the same day.
Orders placed after the 3pm cutoff will be dispatched the following business day.
Generally, deliveries to major cities can be expected within 1-2 business days and upto 5 business days for more remote areas. 
Should you have an urgent order please call us so we can arrange speedy delivery by either direct courier or air freight. 
In this case, all shipping fees will be forwarded onto you, however we do negoiate with our couriers to find you the cheapest price.

Backorders
We strive to have all items in stock. However, if for any reason we are unable to dispatch your order in the normal time schedule, we will notify you within 2 business days.
While we also endeavour to have the website constantly updated, in the rare occasion a product is obsulete, we will call you to discuss the upgraded version or offer you a full refund. 
Notes
Insufficiently supplied or incorrect address details will incur a $8.00 relivery fee. 
If you have given approval to leave goods without a signature, you accept full responsibility if your parcel is lost or stolen from your property. 
Warranty
We provide one year warranty on all Envirotech products. Warranty of OEM products is per the manufacturers' return policy which we can organize for you.
 ORDER CANCELLATIONS
Once orders are received and processed, we may not be able to cancel it.
We also reserve the right to cancel your order if

You provide an unauthorized credit card
We are unable to process payment on the credit card provided.
You provide invalid personal details
The product has become unavailable.
We will notify you before cancelling your order.
RETURN POLICY
To return a product, you must first contact us to obtain a Return Authorisation number to be clearly displayed on the outside of the box.
Incorrect goods
There are so many different types of cartridges and printer models. If you are unsure if you have the correct cartridge please contact us on 03 9796 4009 to verify before organizing a Return Authorisation number.
Returned goods must be in the original packaging, unopened, undamaged and free of any shipping labels or marks, otherwise a credit may be rejected.
Where incorrect goods were ordered, all credits incur a 20% restocking fee.
Faulty goods
Please call Ecotech to organise a Return Authorisation number, and return faulty goods, clearly labeled, with return authority on the outside of the box, and a print page inside.
There are many occasions where toner and ink cartridges, both Envirotech and OEM, are found non-faulty please ensure you have performed your printer's recommended cleaning procedures beforehand or call us on 03 9796 4009 to verify whether it is a cartridge or printer problem.
The warranty is limited to the cost of the goods as per your invoice and is the actual amount you paid for the goods.
Once cartridges are received and evaluated, the credit could take upto 30 days for OEM cartridges and 7 for Envirotech.
Secure Payments
Our online payment structure is 100% secure processed by braintree payment gateway. We do not store any credit card details. 
We accept the following forms of payment online
Visa
Mastercard
Discover
Paypal
Alternatively, please call
head office
and we can process credit card payments over the phone or give you our information for payments via direct debit or cheque. 
Where direct debit or cheque has been the payment mehtod, please allow for the payment to be cleared before order despatch. 
There is no surcharge for credit card payments