FUJITSU Image Scanner fi-7030
Overview
Evolved entry model suitable for quick scanning
27 ppm / 54 ipm scanning in color, grayscale and monochrome
50-sheets Automatic Document Feeder (ADF)
Scanner Central Admin Suite
Embossed card scanning (0.76 mm thickness)
Accurate mixed batch scanning for different types of documents
Comes with PaperStream IP (TWAIN/ISIS), PaperStream Capture and PaperStream Capture Pro is available as an option.
Features
Ideal for desktop scanning with its compact size and card scanning capability
The fi-7030 handles the scanning of a wide range of documents reliably from thin documents to thick documents (40-209g/m2), and plastic cards including embossed cards. Long paper scanning of up to 5 meters and over is also available as well as A3 size scanning with a carrier sheet that comes with the scanner as an option.
Compact design allowing it to be placed anywhere
Its noticeable compact size with a sophisticated design suits various environments. The scanner fits in small spaces even smaller than spaces that are A4 in size on a desk.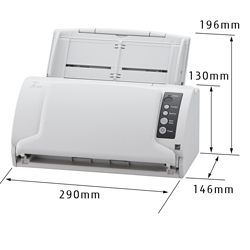 Fast processing performance
The fi-7030 scans at a speed of 27 ppm / 54 ipm (A4, portrait, Color, 200 / 300 dpi), which is increased by 35% compared to the previous model. The scanner will not make you or your customers wait with a quick startup time of half a second and a recovery time of 1.0 seconds after resuming from sleep mode.
Accurate mixed batch scanning for different types of documents
The Skew Reducer prevents the following documents from being skewed when the preceding document is skewed, thus preventing the image from being incomplete with missing parts even in the case of a batch scan with various types of documents. This also reduces the burden of re-scanning.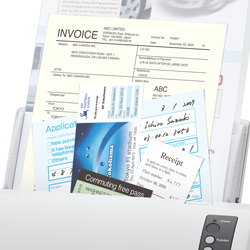 Automatically creates the best suited image quality without hassle
The PaperStream IP scanner driver, which supports TWAIN/ISIS, avoids the inconvenience of fine adjustments to the settings for OCR processes. It automatically converts the images into exceptionally clean images, accelerating OCR even when scanning wrinkled or soiled documents, or documents with a background pattern.
Advanced software for your work efficiency
PaperStream Capture
PaperStream Capture makes advanced capture with Fujitsu scanners easier than before. PaperStream Capture has a streamlined User Interface to reduce training time and increase productivity. Not only have we provided users with the most common profiles used by customers—black and white, color, and auto-color—new profiles are easily created or modified through a wizard. We have organized the release screen so that batches can easily be suspended or continued. PaperStream Capture is also integrated with PaperStream IP's assisted scanning for visual cleanup of documents. The reading of barcodes and patch codes make document separation easy, improving document organization.
PaperStream Capture Pro
A high-quality, front end scanning software, PaperStream Capture Pro enhances Fujitsu fi Series' superior scanning abilities with an improved feature set that includes options for high level data extraction and indexing, the import of electronic images, and support for multi-station licensing. PaperStream Capture Pro offers cost-effective improvement tools such as PaperStream IP for optimized image capture. As a distributed capture model, this scanner software captures your data without added costs and resources. This solution benefits organizations and departments that require an efficient yet easy way to convert paper documents into a digital file for high level data indexing and extraction. Improve records management processes and drive down business expenses with PaperStream Capture Pro.
Scanner Central Admin - Centralized scanner management software
Scanner Central Admin allows the administrator to manage a large number of scanners in the network by delivering simultaneous driver updates and scanner setup information, or monitoring consumable and error statuses via the network.
Option: Carrier Sheets
Carrier Sheets allow you to scan documents, photos or clippings larger than A4 size. Documents larger than A4 (such as A3 or B4) or photos and clippings that can be damaged easily can be digitized when using the Carrier Sheet.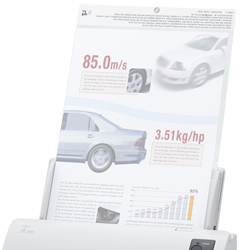 * Carrier Sheets (5 sheets per set) can be purchased separately. (The Carrier Sheet should be replaced approximately every 500 scans)
/f/i/fi7030_lefttilt.jpg
Shipping Policy
Ecotech Print Solutions strives to serve you with the most efficient and reliable delivery method. 
We use the following methods to send you your goods in super fast!
Express Post
Registered Post
Couriers including Couriers Please, TNT, Startrack and Toll
Air Freight (or all urgent orders please call us to arrange air freight, a surcharge may apply)
 Shipping Fees

All orders over $99.00 are eligible for free shipping. If your order is under $99.00 an $8.00 shipping fee will be applied.


Disptach and Delivery times
All orders placed before 3pm AEST (excluding weekends and public holidays) are dispatched on the same day.
Orders placed after the 3pm cutoff will be dispatched the following business day.
Generally, deliveries to major cities can be expected within 1-2 business days and upto 5 business days for more remote areas. 
Should you have an urgent order please call us so we can arrange speedy delivery by either direct courier or air freight. 
In this case, all shipping fees will be forwarded onto you, however we do negoiate with our couriers to find you the cheapest price.

Backorders
We strive to have all items in stock. However, if for any reason we are unable to dispatch your order in the normal time schedule, we will notify you within 2 business days.
While we also endeavour to have the website constantly updated, in the rare occasion a product is obsulete, we will call you to discuss the upgraded version or offer you a full refund. 
Notes
Insufficiently supplied or incorrect address details will incur a $8.00 relivery fee. 
If you have given approval to leave goods without a signature, you accept full responsibility if your parcel is lost or stolen from your property. 
Warranty
We provide one year warranty on all Envirotech products. Warranty of OEM products is per the manufacturers' return policy which we can organize for you.
 ORDER CANCELLATIONS
Once orders are received and processed, we may not be able to cancel it.
We also reserve the right to cancel your order if

You provide an unauthorized credit card
We are unable to process payment on the credit card provided.
You provide invalid personal details
The product has become unavailable.
We will notify you before cancelling your order.
RETURN POLICY
To return a product, you must first contact us to obtain a Return Authorisation number to be clearly displayed on the outside of the box.
Incorrect goods
There are so many different types of cartridges and printer models. If you are unsure if you have the correct cartridge please contact us on 03 9796 4009 to verify before organizing a Return Authorisation number.
Returned goods must be in the original packaging, unopened, undamaged and free of any shipping labels or marks, otherwise a credit may be rejected.
Where incorrect goods were ordered, all credits incur a 20% restocking fee.
Faulty goods
Please call Ecotech to organise a Return Authorisation number, and return faulty goods, clearly labeled, with return authority on the outside of the box, and a print page inside.
There are many occasions where toner and ink cartridges, both Envirotech and OEM, are found non-faulty please ensure you have performed your printer's recommended cleaning procedures beforehand or call us on 03 9796 4009 to verify whether it is a cartridge or printer problem.
The warranty is limited to the cost of the goods as per your invoice and is the actual amount you paid for the goods.
Once cartridges are received and evaluated, the credit could take upto 30 days for OEM cartridges and 7 for Envirotech.
Secure Payments
Our online payment structure is 100% secure processed by braintree payment gateway. We do not store any credit card details. 
We accept the following forms of payment online
Visa
Mastercard
Discover
Paypal
Alternatively, please call
head office
and we can process credit card payments over the phone or give you our information for payments via direct debit or cheque. 
Where direct debit or cheque has been the payment mehtod, please allow for the payment to be cleared before order despatch. 
There is no surcharge for credit card payments